A GUIDE TO HOW TO USE TIGERNIX BRAND
Bold, confident, fierce, and a supreme master, the tiger is undoubtedly known for its regal beauty and ultimate presence. The tiger is also known as the king of beasts, not only because it is believed that the Chinese character "王" (means the "the king") is seen on its forehead, but also because it's the symbol of power and courage. Our logo, the raring tiger, symbolizes all of its characteristics and specifically precision, confidence, and clear focus. We, at Tigernix, set our goals right and have a laser sharp focus on achieving them. Our solutions are new age, bold, and confident, and at the same time, our services are focussed, clear, and result oriented. We're raring to go, to help you see beyond the success you dreamed of!
The palette of colours used in our logo was selected by our team based on several emblematic meanings too.
The colour, Orange, represents the creativity, success and determination of our team to move forward to be the best software vendor in Australia.
The colour, Black, represents the strength, power, elegance and prestige of the technological systems and services executed by our team to our cherished clientele in Australia.
The colour, White, represents the purity, light and hospitality of the team towards clientele in Australia.
Planning to use our logo?
If you are planning to use our logo for your marketing or operational purposes please note that Tigernix Pty Ltd is being notified beforehand. You can use our logo for your website or printing materials under certain regulations which can be communicated at +(61) 3 8370 7014 or mailed to [email protected] on your request.
Some regulatory measures that you must follow when sharing our logo are:
Refraining from deforming, editing, cropping or distorting the logo when being shared

Enabling an active link via the Tigernix logo in your website to our website (http://www.tigernix.com.au)

Take the responsibility of not misusing the logo for any fraudulent, illegal or unethical business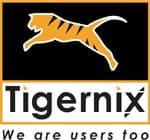 To download the logo: For downloading the image on the web, right-click on the logo, select Save Picture As and save it to a local folder. The image will be saved as 'tigernix_final_150.jpg'.