Smart Water Asset Solutions
15+ years of providing outstanding industrial asset technology services for asset-oriented industrial practitioners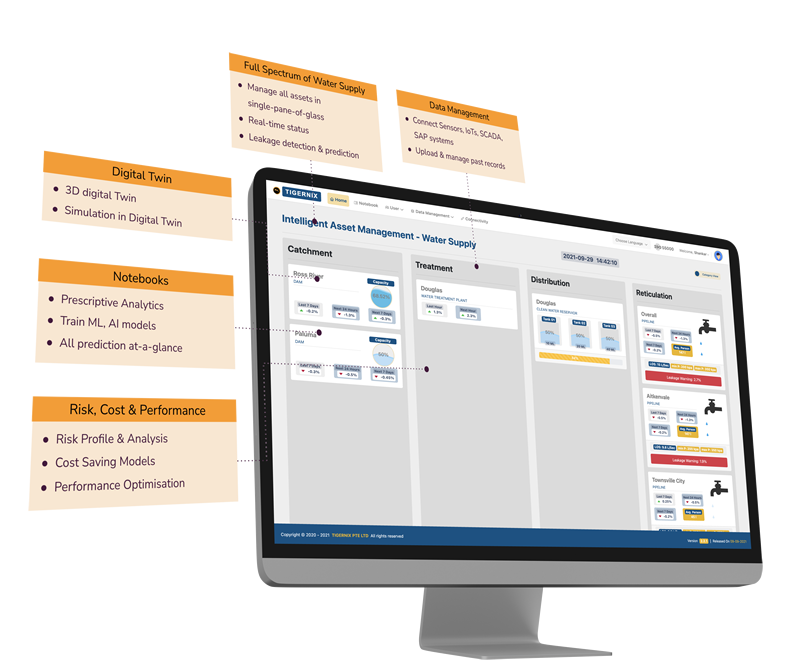 Mitigate Risks and Dispensable Expenses and let your Water Infrastructure Performances meet Sky Limits with a Single Decision
Tigernix solutions are recognised by municipal water service providers around the world for being modern-age technological advancements for their water systems. Our proprietary water solutions allow water industry leaders to harness the power of Industry 4.0 recognised technologies like AI, Digital Twin, IIoT, Predictive and Prescriptive Analytics. Tigernix is the unrivalled water solution technology partner that prepares asset water infrastructure asset managers to overcome major challenges in dynamically ageing water assets and vast infrastructures.

Tigernix enables technological solutions to ensure the health, durability and recency of parametric readings of your catchment infrastructure.

Upheave the standards of your water treatment centres, with premium and precise technology tools and visibilities enabled by Tigernix Water Asset Solutions.

Tigernix has pioneered in enabling a range of out-of-the-box solutions to help water utility establishments manage distribution networks under a single glass pane.

Predict pipelines failures, risks and congestions before actual occurrence and saves millions of dollars with forward-looking asset decisions via Tigernix Analytical Solutions.
Tigernix helps asset-intensive city councils and other water utility service enablers in the Water Industry overcome a range of significant challenges.
We can help you overcome these challenges
Connect with our team to learn how we can help YOU
We provide complimentary product demos and customer guidance
Please send us your concerns, inquiries or book a complimentary session with our IT specialist and domain experts, who can guide you towards successful Industrial Solution Deployment and setting company-specific business goals.