Join Tigernix in Vietnam at the 17th World Congress On Engineering Asset Management
Join Tigernix in Vietnam at the 17th World Congress On Engineering Asset Management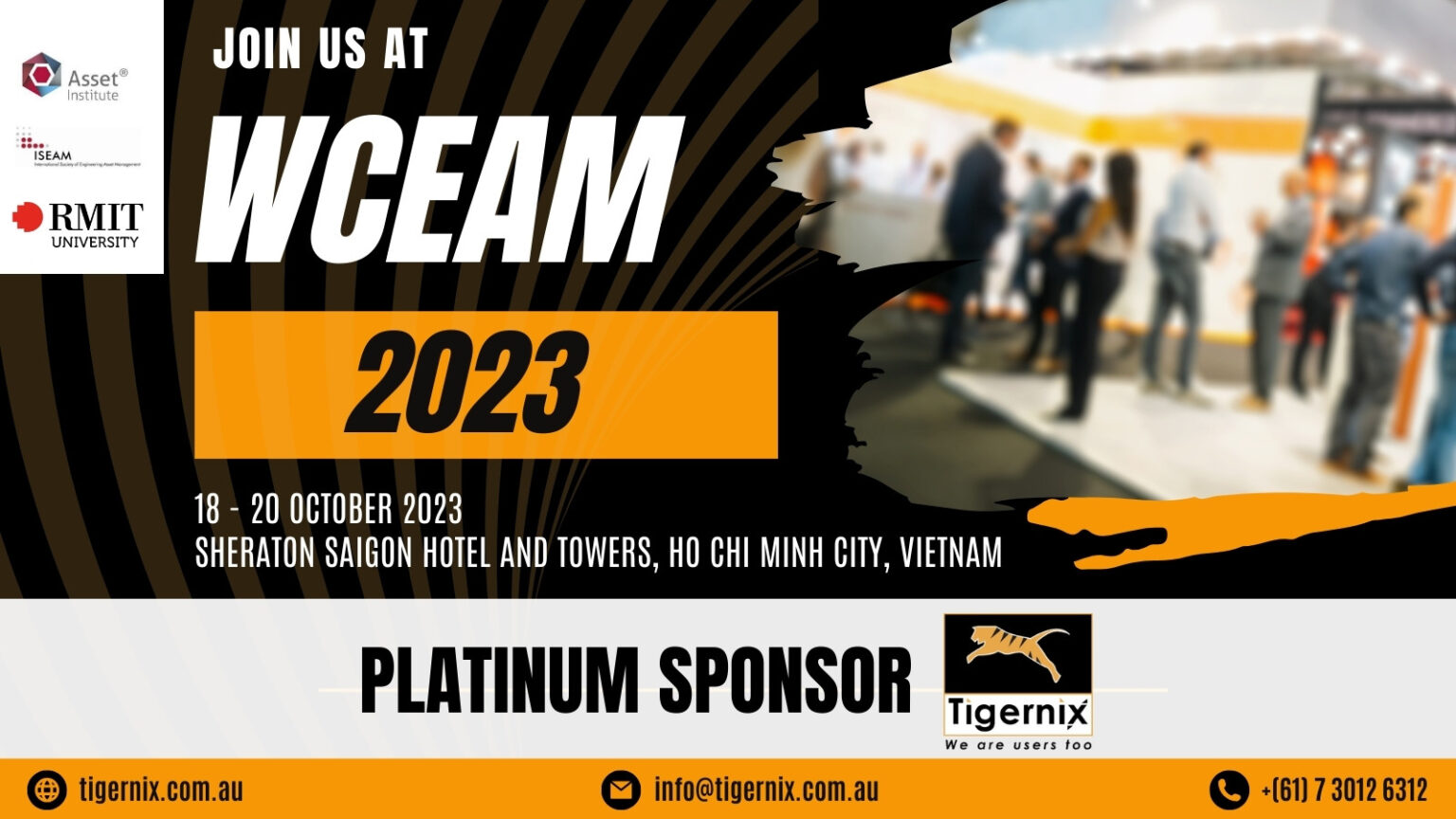 Mark your calendars for an exceptional gathering of global asset technology visionaries in  Land of the Blue Dragons: Vietnam! From October 18, 2023, to October 20, 2023, Tigernix is proud to invite you to the Sheraton Saigon Hotel and Towers in Ho Chi Minh City, Vietnam, to embark on a transformative journey as we unveil groundbreaking technology advancements in the realm of asset management. 
The 17th WCEAM (World Congress on Engineering Asset Management ), an event of paramount significance, will serve as the epicentre for asset specialists worldwide. Together, the delegates will gain the chance to share profound insights, introduce cutting-edge technologies and collectively address the multifaceted challenges that lie before the future of asset management. With immense pride, we announce Tigernix as one of this year's esteemed sponsors, bestowed by the triad of this year's event organisers—RMIT University, ISEAM, and Asset Institute.
Exhibition Booth - 18 - 20 OCT
Tigernix will have a special booth at WCEAM 2023, where we will highlight the distinctive features of Tigernix's asset technologies. We are prepared to demonstrate the skill of our Australian company in developing industry 4.0-inspired technology suites suited for the mechanical, water, wastewater, and road sectors.
Author Presentation - 18 OCT
Tigernix's CEO, Mr. S. Gowrishankar, will give an insightful editorial piece that he co-authored with our COO, Mr. K. Srijeyanthan, and CTO, Mr. K. Thannasan. This detailed chapter thoroughly reviews the current difficulties that managers of modern water dams confront. It also examines how Industry 4.0 technology may alter catchment infrastructure management, turning problems into ground-breaking answers. You are kindly invited to attend this enlightening session on October 18, 2023, from 10:35 to 10:55 a.m. at the Sheraton Ballroom.
Gala Dinner Party - 19 OCT
Tigernix is also honoured to be this year's official Gala Dinner Partner for WCEAM. On October 19, 2023, at 6:00 p.m., in the Sheraton Ballroom, Mr. S. Gowrishankar, CEO of Tigernix, will extend a hearty greeting to all participants as the primary contributor.
We extend a heartfelt invitation to asset specialists and technology enthusiasts across the globe to join us at the 17th WCEAM event in Vietnam. This is a priceless chance to speak with the brains behind Tigernix's success and share your story with us too. Please don't hesitate to contact us at +(61) 7 3012 6312 or [email protected] if you have any questions. Help us shape asset management's future by visiting us at the WCEAM!